Sapphire comes out on top after an impressive sewer repair in York
We recently completed a 4.3 metre excavation in the historic city of York! Beside a Grade 2 listed building within an 'Area of Archaeological Importance', a large depression was reported on the road. Our CCTV investigations found a damaged shaft and bricks had fallen into the sewer, meaning there was potential for the shaft to collapse, block or flood.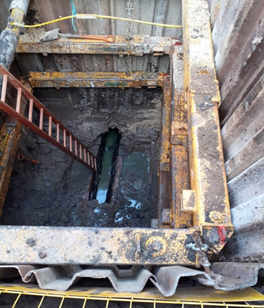 Our team excavated 4.3m deep into the road surface to repair the pipe with patch liner and constructed a new manhole.
This particular job required collaboration between Sapphire Utility Solutions, Yorkshire Water, York Archaeological Trust and York City Council to ensure the work was done within the specifications which were agreed, the area was kept safe, tidy and there was as little disruption as possible due to businesses and properties located close by.
Well done to the team who completed this mission within the budget constraints.
This and many more successful jobs have meant we have reached 1st place in the Yorkshire Water Infra Customers League Table against competitors such as O'Connor Utilities Limited, Morrison Water Services and more.