Sapphire makes the North West 2021 Fastest 50
In the series 'Inspiring Growth in the North West' Top 100 law firm Ward Hadaway, in partnership with Greater Manchester Chamber of Commerce, talks to those companies leading the way in the region.
This week we speak to Michael Patel and Colin Kelly of Sapphire Utility Solutions, a young and ambitious utility services business that has grown exponentially – alongside Paul Johnson, Executive Partner at Ward Hadaway, Manchester. Sapphire Utility Solutions has recently been featured in Ward Hadaway's North West Fastest 50 list.
"We're a young company in the utility sector," says Colin Kelly, who joined the Preston-headquartered Sapphire Utility Solutions after it was established eight years ago by founder, Michael Patel. "But with our youth we bring experience – both Michael and I have worked in the sector for decades – and innovation too. When Michael set up Sapphire, he was determined to bring a fresh approach to the way a utility business operates.
"With Sapphire, we've created a catalyst for change in a traditional, inflexible sector from the way we provide our services to our relationships with our people, our partners and our clients. We are true to our values which differentiates us from the rest and that's why, quite simply, we continue to grow."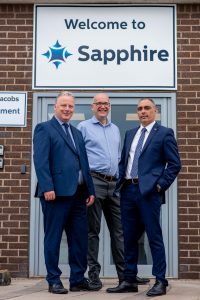 And growing is what Sapphire is doing – rapidly. With turnover set to surpass £100 million this year, Sapphire is a major employer in the North West and is growing its presence nationally, with a 1,300 strong team. The company works with some of England's biggest local authorities and has secured major contracts with large utility providers including United Utilities and Yorkshire Water.
Michael said: "Our success is down to key principles that we not only passionately believe in but ensure are reflected across the business in absolutely everything we do. Those principles are being customer-centred, being innovative and using innovation to deliver workable solutions for clients. Enabling our workforce to be their best is another vital philosophy at Sapphire."
Sapphire's approach to employee wellbeing is something to be proud of. The company invests heavily in training and strongly believes in unlocking employee potential and giving people opportunity. Opportunity to excel, progress and learn to develop professionally and personally.
"We wanted to take a completely different approach to people management and talent development," explains Michael. "We want people to work for us not because they're the finished product but so we can help them develop. We're focused on empowering our people to be the best they can be through appropriate training, support and tailored progression plans."
If Sapphire's passion for employee development is strong, their desire to ensure the personal wellbeing of each worker is unequivocal. Mental health is a key priority, with many employees receiving accredited mental health training.
"We treat people as individuals," says Michael. "Everyone has their own life story, their own personal situation. We respect that and collaborate with our employees to deliver a working environment that helps them to fulfil their potential."
Expanding on this point, Colin said: "We have an employee forum, for example, which was established to give people a voice. The forum consists of elected representatives from across the business who reflect every community within it. We have a diverse workforce, and the representatives encapsulate this and each has a distinct voice. I meet with the forum every month to hear about people's ideas and any issues or challenges which directly impact and shape senior leadership decision making.
"All of our employees have 24/7 free access to counselling services to help them deal with any issues they might face at any point in time, whether that's stress, financial wellbeing matters or other mental health problems. Mental health is so important, and we want to ensure our whole team can be open about how they're feeling and what they're thinking. What our people think lies at the centre of our business, shaping the way we progress."
Paul Johnson, Executive Partner at Ward Hadaway, Manchester believes Sapphire is a great role model not just within the utility sector but for all businesses across the North West and nationally too.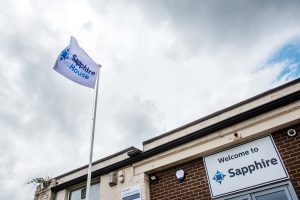 Paul said: "Sapphire is fast becoming a utility services leader despite being a relative newcomer to the industry. Its fleet of vehicles is a familiar sight on the streets of Greater Manchester and beyond and I have no doubt that the company will continue to flourish.Their approach to doing business and their relentless passion to look after people – whether that's their employees or customers – sets Sapphire apart and demonstrates just how vital innovation, employee empowerment and differentiation is to enabling growth. The company's strong founding principles are clearly demonstrated by their people, who are supported in realising their full potential which, in turn, enables Sapphire to continue on its incredibly progressive journey of growth."
The resilience of the business has been proven during the pandemic as Sapphire adapted to the huge logistical and safety challenges Covid has presented. They've successfully navigated the crisis and grown by 30% since March 2020.
Colin added: "If we were to give any advice, it would be to stay true to your principles and don't be afraid of saying what your principles are and boldly following them. Make sure you have in place the right business model to enable your people to be their best, give them the right tools to do their job and empower them, genuinely, to make it happen. Yes, you need boundaries and you need rules but don't forget the importance of empathy and the impact this has. When looking to the future, many MDs in my position will say they want greater turnover, a bigger team and further expansion. Personally, I just want Sapphire to be recognised for its innovation and to be known for being a great place to work."